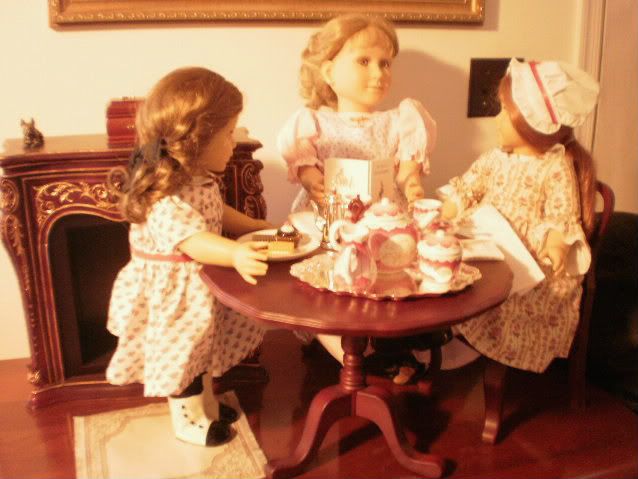 It is last afternoon, Becky & Felicity's favorite time with Miss Ashton. This is the time they sit near the cozy fireplace, on cold or chilly evenings, with Miss Ashton and have tea & cakes, and read their favorite story. With the chilly evenings of spring, and since today it has been raining, they sit in the parlor nook and have tea. Miss Ashton has brought a book that she promised to read to the girls after tea & cakes.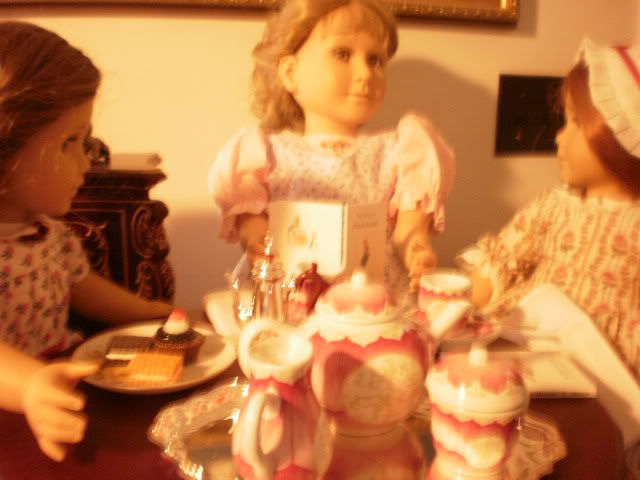 Miss Ashton spoke. "Now girls, let's finish up your tea & cakes- we will begin our storytime if you are ready."
Becky was still not finished with her cake & cookies."Can I eat while you read Miss Ashton?"
"Haven't you finished dear?" Miss Ashton said surprised.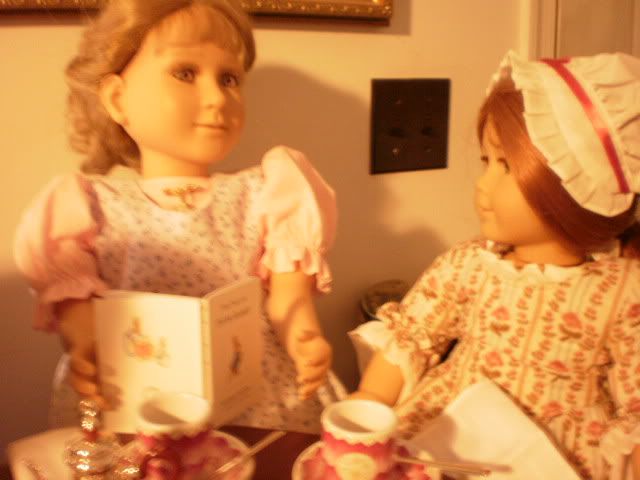 "Becky is a terrible pig! She took the last cupcake!" laughed Felicity. Miss Ashton was very grave suddenly in her demeanor. "Felicity, that is very rude to remark on someone's eating habits at table. Please apologize dear, I know you did not mean it except in jest." Felicity flushed quite red, and stuttered. "I was just joking! Becky always takes too many goodies at tea!" Miss Ashton suddenly was severe. "Felicity" was all she said.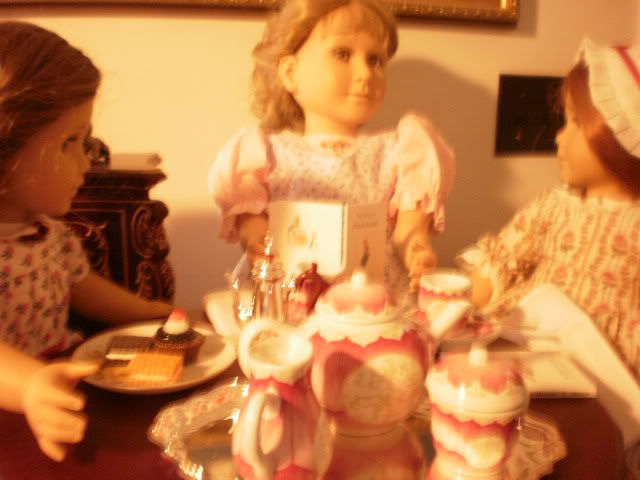 "I'm sorry Becky." Felicity mumbled. Becky came to her friends rescue, feeling badly for Felicity- she was so right. "That's ok Lissie- I did take the last cupcake, and I didn't ask." Miss Ashton beamed. "That's my girls!"
"Now we are going to have our story. Is everyone ready for this one?" Miss Ashton asked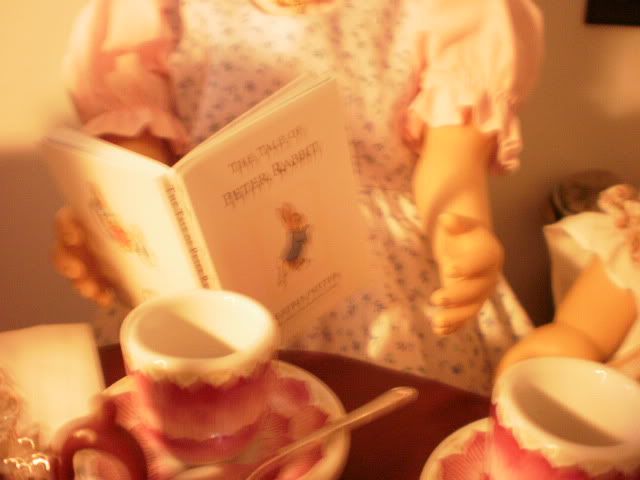 And so, Miss Ashton began to read the Tale of Peter Rabbit, while Becky & Felicity finished their tea & cookies quietly.
You may wonder why Miss Ashton was so stern with the girls at just a small threesome, and their manners. Tea & storytime was Miss Ashton's impromptu way of teaching manners and decorum to her pupils, along with manners which she found more and more important. And so, as they listened attentively to the tale of Peter Rabbit, Becky taking more cookies and Felicity smiling conspiratorily at her friend, the afternoon hour passed pleasantly as always on Pumpkin Hill.
~Lisa